Salinas
In Marinhas do Sal, or Salinas de Rio Maior, there are several restaurants and small cafes, where you can enjoy local products and specialties:
Salarium (next to the Salinas tanks, serves regional dishes and snacks)
Churrasqueira Solar do Sal (regional cuisine, especially roasted chicken)
Aldeia de Chãos
Restaurante Terra Chã (panoramic restaurant, regional cuisine with local products)
Alto da Serra
At the entrance to Alto da Serra, on the national road on the way to the Mill:
Cantinho da Serra (traditional dishes)
Rio Maior
Recantão (on the national road, next to Rio Maior, grilled meat specialty)
Palhinhas Gold (in the city center)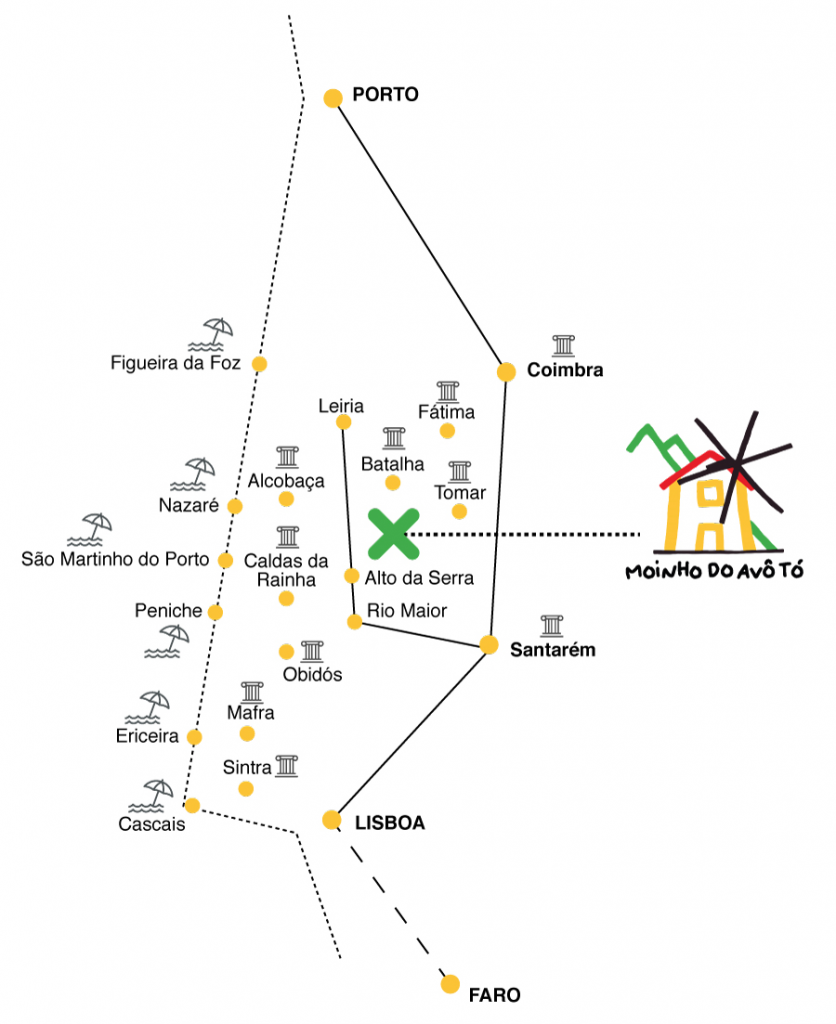 The city of Rio Maior, which is about 5 km from the accommodation, offers all the necessary services, such as supermarkets, laundry, pharmacy, health centre, banks, restaurants, bakeries, cinema.
In Salinas there is a Tourist Office where it is possible to obtain information about the points of interest in the area, as well as tourist entertainment companies that offer various activities, such as visits to the Salinas, walking tours and bicycle rental, among others.
In Aldeia de Chãos, Cooperativa Terra Chã offers several activities and experiences related to the Serra, namely the possibility of being a shepherd for a day, walking and cycling tours, visits to the Alcobertas cave.
In the Rio Maior area
Roman ruins in Rio Maior
Aldeia de Chãos, there is an association (Terra Chã), which maintains local traditions and customs, has a restaurant with a panoramic view over the valley, and typical gastronomy of the area, a weaving centre, a community herd (goats "sapadoras" that clean the land for the inhabitants of the village) and cheese production.
Aldeia das Alcobertas, in this village there is a Dolmén, or Anta, which is currently integrated in the Church
Next to the village of Alcobertas there is a spring, an interesting place that was formerly a water supply point for people and animals that travelled kilometres from the neighbouring villages in search of water, which has always been in short supply in the region.
Prismatic Basalt Formations of Portela de Teira
Points of historical and architectural interest in the region
Santarém (rich in Portuguese Gothic churches)
Caldas da Rainha (Thermal Hospital and Bordalo Pinheiro)
Óbidos (medieval village)
UNESCO World Heritage
Monastery of Alcobaça (Real Mosteiro de Santa Maria de Alcobaça)
Batalha Monastery (Mosteiro de Santa Maria da Vitória)
Tomar (Convento de Cristo)
Coimbra (University of Coimbra, Alta and Sofia)
Other points of interest
Dinosaur Footprints Natural Monument – ​​Ourém/Torres Novas (Serra de Aire Footprints, or Pedreira do Galinha)
Dinosaur Theme Park in Lourinhã
Nearby beaches
Foz do Arelho
Peniche
Praia d'El Rey
São Martinho do Porto
Nazaré
Other beaches in the West region
The ICNF defines a total of 16 Pedestrian Trails in Serra de Aire e Candeeiros, they are Small Routes in the PNSAC
Municipality of Alcanena 
PR1 – Olhos de Água do Alviela

 
Municipality of Alcobaça 
Municipality of de Ourém 
Municipality of Porto de Mós 
PR1 – Serra da Lua

 

PR2 – Arco da Memória

 

PR3 – Lapa dos Polcigões

P

R4 – São Bento

 

PR5 – Castelejo

 

PR6 – Fórnea

 

PR7 – Corredoura (Ecopista)

 

PR8 – Serra Galega

 

PR9 – Estrada Romana

 
Municipality of Rio Maior 
PR1 – Marinhas do Sal

PR2 – Chãos-Alcobertas

 
Municipality of Santarém 
PR1 – Gruta – Algar do Pena

 
Municipality of Torres Novas  
Other Routes
Mata do Cerejal

Buraco Roto (Reguengo do Fetal, Batalha)

 

PR3 – Rota dos Moinhos